More than a year and a half ago, I wrote about rumors that the undisputed master of portable Chinese–English dictionary software was considering a version for iPhone OS. Earlier this month, Pleco finally released its iPhone version (iTunes link), with a free basic version and free upgrades for customers who purchased Windows Mobile and Palm OS versions.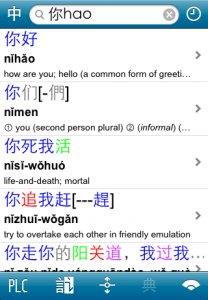 I had bought one version for Windows Mobile on my old HTC Touch while living in Beijing, but had depended on DianHua (free) and HippoDict (pretty good but not free) since switching to iPhone in the United States. Last summer while studying in Beijing I switched back to the HTC for Pleco. No more!
In the free version, you get some basic dictionaries that work far better than others I've seen. In the paid versions, you get Pleco's new iPhone-specific handwriting recognition, which is far better than Apple's. What you lose on the transfer from Windows Mobile, however, is access to the Oxford dictionary, which Pleco says costs perhaps more than it is worth, and the stroke order diagrams, which they've replaced with others.
Significantly, the Pleco handwriting recognition module for iPhone seems to do well with "cursive" writing, something you can't say for the native writing recognition. It seems to be even better than the Windows Mobile version. The app also includes a built-in store that includes more Chinese–English dictionaries (both free and paid) and the Xiandai Hanyu Guifan Cidian, a Chinese–Chinese dictionary which runs for $39.99.
Here's what Pleco's Michael Love had to say in April 2008:
We're not thrilled about Apple locking down distribution and charging developers a 30 percent commission to sell iPhone software, but we really like the platform and think it has enough potential to be worth the hefty fees.

The iPod Touch is actually more exciting to us, in some respects, than the iPhone, since it doesn't force you to change your cell phone carrier and can be found almost anywhere.

It's next to impossible to buy a cell phone-less Palm or Windows Mobile handheld in many parts of the world nowadays, but the iPod Touch is all over the place, so for those people who are willing to buy a handheld just to run Pleco, it would be a better option than they've had in quite a while.
For a demo, see the video below: