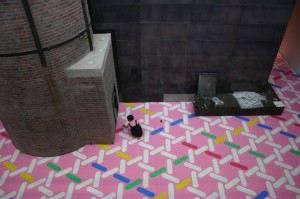 Early today I put a new header image at the top of this site. It's cropped from a picture of an artist working on a grand installation in the Ullens Center for Contemporary Art, a gallery/museum in Beijing's 798 art district. A few hours later, I heard the ambitious project was coming to a sort of end after its opening in late 2007.
The folks at RedBox have the story:
The Belgian foodstuffs baron Guy Ullens is to hand over the management of his contemporary art gallery in Beijing to "long-term partners" and divest himself of the institution.

He will also sell in stages the extensive collection of Chinese contemporary art amassed with his wife Myriam, with the first 106 pieces to be auctioned by Sotheby's in Hong Kong on 3 April.

Once he has done this, he says he intends to spend more time on his charitable education work in Nepal and return to collecting young artists, with his focus now on Indian rather than Chinese artists. [more]
I promise this was a coincidence, and so I will leave the image here for a while as a tribute to an interesting, at times troubled, and ongoing project.