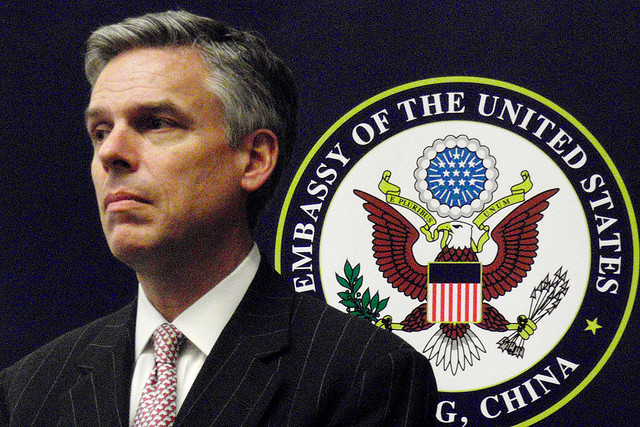 Noted, from ChinaSolved (emphasis mine):
When Huntsman says, "America First" he means "and not China".

His message is that he's seen what can happen if the global status quo doesn't shift – and that this is scary to the US.  Moreover, he's in a position to do something about it.  He has seen the enemy – or at least the rival – and it's China.

This is the new expat message.  In the 2000s,  China pros said "I can open that China opportunity".  In the coming decade, their  line will be, "I can help you keep the Chinese at bay."
I don't have time to evaluate this, but such a shift would be interesting, if unsettling. My initial sense is that there have always been "China experts" who said they would defend the United States and others "against" China. The difference now may be that those people are being drawn from the ranks of individuals who actually speak Chinese and have actually been there.
This kind of stance is only possible if you have a very dark strategic view or if you never spent enough time speaking with people to lose the fear narrative. Expat enclaves can only encourage this us–them viewpoint.