Chinese Vice President Xi Jinping continues his trip to the United States ahead of his expected rise to the top leadership position after November's party congress. Meanwhile, NPR's Louisa Lim has a great radio story on the man expected to be the next vice president premier, Li Keqiang.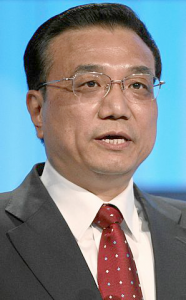 Li, who is currently vice premier, comes across as a careful—if reformist-leaning—politician. Indeed, the extent of his ties to the Tiananmen movement is part of the story.
Lim also includes reference to one of my favorite Wikileaks cables, one that endeared Li Keqiang to me during an academic project, for his insight if nothing else.
People like to quote Li's assertion that Chinese GDP figures are "man-made." This is notable only in that Li said it as Party Secretary of Liaoning Province, a large northeastern economy bordering North Korea. But what he supposedly said next is far more interesting for people who, despite bad GDP figures, want to understand the magnitude of Chinese economic activity. Li offered three proxies for economic output that he looked at to keep an eye on Liaoning's heavy industry–dominated economy.
The full excerpt from the cable:
4. (C) GDP figures are "man-made" and therefore unreliable, Li said. When evaluating Liaoning's economy, he focuses on three figures:
1) electricity consumption, which was up 10 percent in Liaoning last year;
2) volume of rail cargo, which is fairly accurate because fees are charged for each unit of weight; and
3) amount of loans disbursed, which also tends to be accurate given the interest fees charged. By looking at these three figures, Li said he can measure with relative accuracy the speed of economic growth. All other figures, especially GDP statistics, are "for reference only," he said smiling.
The scholarly community had already thought of electricity consumption, and economists are creative when looking for proxies. But this is a vote of confidence in the idea of proxies over primary indicators, even when the indicator is "known." The message is that closely watched numbers are also closely controlled; reality may be hiding in less scrutinized places.
It's also worth noting that this frank discussion with someone who got the information into a U.S. diplomatic cable suggests that Li is perhaps more comfortable than usual working internationally. His English, for one thing, sounds great in the radio report.