The Asia Society and the Rhodium Group on Wednesday released a follow-up to their 2011 report on Chinese outward foreign direct investment (OFDI) in the United States. This report zooms in on California to analyze the particularities of that large sub-national market in the United States. One of the key insights authors Daniel Rosen and Thilo Hanemann offer is that sub-national policies have an important role to play as investment flows between the United States and China become a two-way street.
They specifically offer some good points in light of this week's release of the U.S. House Intelligence Committee's report on the Chinese telecommunication firms Huawei and ZTE, a report that I view as deeply flawed in its approach to an important topic. On California, where the economy could definitely use a boost, Rosen and Hanemann write:
If California can marshal its assets and sustain current investor interest, we estimate that it can land $20 billion in new Chinese inflows by 2020; if strategy and execution elevate state performance to its full potential, inflows could reach as high as $60 billion (55).
Here are a few interesting points from Rosen and Hanemann's report. (This is not a summary, though! Best to read the paper.)
As more investment comes out of China, countries will compete to receive it, and states will compete within the United States.
California has great advantages, the report notes. It's economy is huge, its history and established trade (including a huge amount of shipping traffic) with China is large, and it has key sectors and workforce benefits that could be attractive to investors. But, they write:
There is a glaring disconnect between California's high ranking in technology and innovation and access to capital and its cost of doing business and perceived business friendliness. On the latter criteria, California routinely ranks near the absolute bottom in independent surveys (57).
This is a real factor among U.S. states seeking investment from abroad. How is your economy, and how's the corporate environment? Clearly, though, California has a lot going for it despite perceived mafan.
Among California's emerging strengths is its wine industry.
So far, at least three multimillion-dollar winery and vineyard acquisitions have been completed; "Oakland Mayor Jean Quan made California wine one focus of her 2011 trade and investment mission to China" (39); and, well, wine shops are all of a sudden all over my Dongcheng, Beijing, neighborhood.
Oh yeah, and 40 California vinters are heading out for an Asia trade mission on Monday, as exports to the region have increased.
Last year's 2011 U.S. wine exports, 90 percent from California, to the countries scheduled for the upcoming Asia trade mission were:  Hong Kong, $163 million, up 39%; Japan, $105 million, up 39%; China, $62 million, up 42%; Vietnam, $21 million, up 266%; South Korea, $13 million, up 13%; and Taiwan, $9 million, up 21%. [source]
Huawei is no demon in the California story.
The Rhodium/Asia Society report, almost surely completed before the Congressional report out Monday, notes a different side of Huawei's presence. It notes that Huawei, ZTE, and TP-Link "run sales and after-sales service operations in California," and that Huawei was blocked by the interagency Committee on Foreign Investment in the United States in an attempt to buy the assets of a bankrupt start-up (35). Huawei is also expanding "through significant local hiring and acquisitions," the report says (50). And the company produce goods in California (49).
Though the report emphasizes that carefully targeted national security screening is essential, it argues that states need to pressure the federal government to remain open and fair.
While Washington-based national security and immigration policies are systemic impediments to Chinese firms and businessmen, a positive set of incentives must come from state and local governments (58).
I'll end with the Rosen-Hanemann summary point on national security screening in investment. They are perhaps especially prominent pro-investment voices, having received a great amount of coverage since their 2011 report shed light on Chinese investment in the United States, but their views are not uncommon in the business community—with the caveat that organizations such as the U.S.–China Business Council have their own list of issues many businesses would like to see redressed on the Chinese side. Among those issues are intellectual property protections, equal treatment in regulatory processes, and decreased restrictions on which sectors are eligible for foreign investment. It is perhaps worth pointing out in light of the current Huawei/ZTE dust-up that China blocks foreign ownership entirely in several industries, including for instance telecommunications services (though I'd have to check about equipment). OK, here's Rosen and Hanemann.
Growth in China's U.S. direct investment has rekindled old arguments about foreign firms and the national interest. Narrowly defined security screenings for foreign investments are imperative: Chinese investment raises plenty of normal, legitimate concerns given the general considerations around foreign ownership and the special characteristics of China. However, security concerns can be misapplied in situations that present no real threat because of simple overreaction or—more worrying—as a back-door route to stifle competition. The politicization of deals on national security grounds has already im- pacted the flow of Chinese capital into California, with the most prominent example being CNOOC's failed attempt to acquire California-based oil producer Unocal in 2005 (61–62).
For more, see the full report, or last year's nationwide analysis. These arguments by no means reflect a full consensus, but they are an interesting and timely addition to the U.S. discussion on Chinese investment.
[UPDATE: As a bonus, here's my favorite chart (one of many) in the report, from page 41: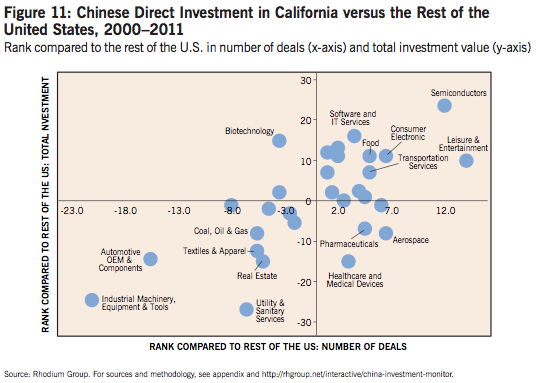 ]