Live updating has stopped.
Introductory thought: Like last year, China is set up as a competitor or even a rival in this speech, with the exception of a nod to the U.S.–China climate deal. For the most part, in the passages below that mention China and/or allude to Asia-Pacific issues, the vision of U.S. relations with China is one of competition. The U.S. would, in this framing, exert efforts to ensure that China obeys U.S.-endorsed rules, does not make new rules in regional trade, and basically stop upsetting a particular vision of an existing international order. Read the passages.
These messages will not be read as forward-looking by the Chinese government; they will be read as a confirmation of suspicions that the U.S. seeks to contain China. The Trans-Pacific Partnership is explicitly tied to preventing China from playing a rule-making role in the Asia-Pacific. While this might appeal to a narrow vision of U.S. interests, a more pragmatic vision for the future of U.S.–East Asia relations would acknowledge that changes in China are already changing global patterns. The task is not to prevent China's rise from changing the world but to ensure that the United States and its allies evolve with China in a way that maximizes peace and welfare for everyone. Despite a lot of protestations over the last few years that the U.S. government seeks a positive-sum future, today's frame was zero-sum.
This analysis is based on the  text as prepared, released by the White House at the beginning of the speech.
My annual mention count: China gets three mentions this year, up from two in 2014. See the rest in this updated chart: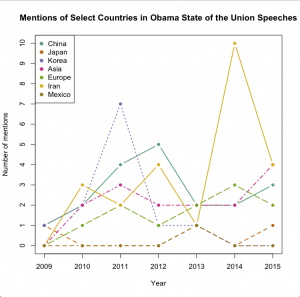 Asia- and China-related passages:
21st century businesses, including small businesses, need to sell more American products overseas. Today, our businesses export more than ever, and exporters tend to pay their workers higher wages. But as we speak, China wants to write the rules for the world's fastest-growing region. That would put our workers and businesses at a disadvantage. Why would we let that happen? We should write those rules. We should level the playing field. That's why I'm asking both parties to give me trade promotion authority to protect American workers, with strong new trade deals from Asia to Europe that aren't just free, but fair.

Look, I'm the first one to admit that past trade deals haven't always lived up to the hype, and that's why we've gone after countries that break the rules at our expense. But ninety-five percent of the world's customers live outside our borders, and we can't close ourselves off from those opportunities. More than half of manufacturing executives have said they're actively looking at bringing jobs back from China. Let's give them one more reason to get it done.
There, he said it: TPA, and TPP is about stopping China from exerting rule-making authority, and about "bringing jobs back" from China.
A swipe at China without being named, in this cybersecurity paragraph:
No foreign nation, no hacker, should be able to shut down our networks, steal our trade secrets, or invade the privacy of American families, especially our kids. We are making sure our government integrates intelligence to combat cyber threats, just as we have done to combat terrorism. And tonight, I urge this Congress to finally pass the legislation we need to better meet the evolving threat of cyber-attacks, combat identity theft, and protect our children's information. If we don't act, we'll leave our nation and our economy vulnerable. If we do, we can continue to protect the technologies that have unleashed untold opportunities for people around the globe.
More on Asia-Pacific—as close as Japan or South Korea get to a hat tip:
In the Asia Pacific, we are modernizing alliances while making sure that other nations play by the rules — in how they trade, how they resolve maritime disputes, and how they participate in meeting common international challenges like nonproliferation and disaster relief. And no challenge — no challenge — poses a greater threat to future generations than climate change.
A friendly note on China, perhaps:
I am determined to make sure American leadership drives international action. In Beijing, we made an historic announcement — the United States will double the pace at which we cut carbon pollution, and China committed, for the first time, to limiting their emissions. And because the world's two largest economies came together, other nations are now stepping up, and offering hope that, this year, the world will finally reach an agreement to protect the one planet we've got.