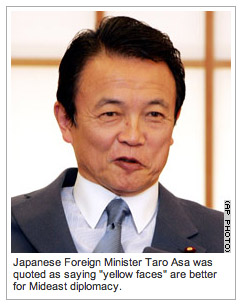 Japanese Foreign Minister Aso Taro is in rare form, even for his inflammatory self. Making a case for the potential for Japanese diplomacy in the Middle East, he asserted that skin color would be a major advantage:
"Japan is doing what Americans can't do," the Nikkei business daily quoted the gaffe-prone Aso as saying in a speech.

"Japanese are trusted. If (you have) blue eyes and blond hair, it's probably no good," he said.

"Luckily, we Japanese have yellow faces."
Folks on the CNN website posting a Reuters story picked a photo of Aso looking particularly pugnacious, and to add insult to injury, they fought back by spelling his name wrong in the caption!
Photo in context after the jump.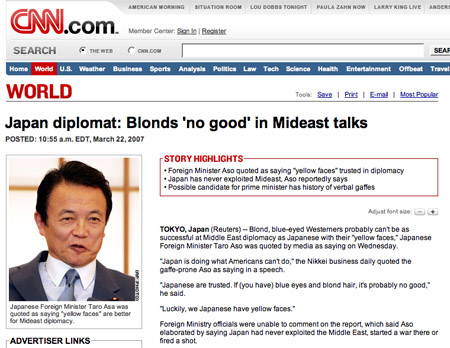 Thanks to Nacho.