I just returned from a still in-progress celebration and parade-watching party at the Harvard Kennedy School for the sixtieth anniversary of the founding of the People's Republic of China on October 1. This followed a presentation earlier in the day by the marketing director of Tsingdao Beer, who outlined some of that company's strategies that have helped it grow quite a bit in the Chinese and international markets.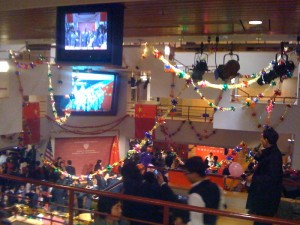 I have little to say, since I've headed home to get to work this evening. But it was an interesting event, including the flags and decorations in the Kennedy School Forum, the PRC national anthem, speeches by PRC government dignitaries, and of course at this time of year, moon cakes: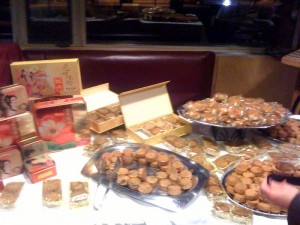 Chinese classmates of mine expressed surprise at the number of Chinese people attending from the various Harvard schools and others in the area. I guess I wasn't surprised there were so many, but had never seen such a large gathering of Chinese in the United States. It felt like the inverse of some U.S. embassy or political parties I attended while in Beijing. This time, I was the one out of place in my country of birth.
Another non-Chinese in our midst, HKS Professor Tony Saich, drew applause and laughter by beginning his remarks in Chinese, and peppered his talk with phrases  better said in the original. One such phrase was 六十而耳顺, part of a Confucian saying on the phases of life. One translation has it as "at sixty, I obeyed."* This is not a translation without controversy. A friend puts it in on-the-spot translation as "at sixty, all that I heard was to my liking." Still another version, the Wenlin dictionary, suggests "at sixty, I achieved understanding."
The last is closest to what Saich intended. At least from this Confucian perspective in Saich's interpretation, a sixtieth birthday signals a time in life when one can see the lay of the land, understand previous successes and mistakes, and take stock of one's self. That, he said, is a pretty good way to look at the PRC today.
* from Analects 2:4 in William Theodore de Bary and Irene Bloom's Sources of Chinese Tradition, 2nd Ed., Vol. 1, New York: Columbia University Press, 1999. pp. 46–47.