With a domestic economic focus expected to anchor the evening, the prepared text of U.S. President Barack Obama's 2012 State of the Union speech (according to WSJ) is similar to last year's in its emphasis on Asia.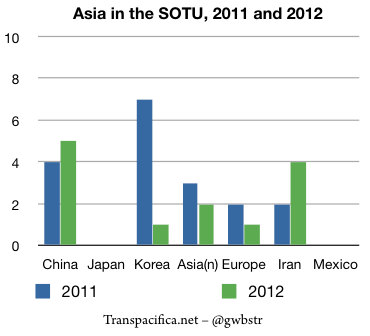 At least measured by the crude "word count" metric, China is mentioned five times, just over last year. Like last year, Japan escapes mention entirely, except as part of the phrase "oldest alliances in Europe and Asia." ("Japan passing" may still be in style.) [UPDATE: "Tokyo" snuck in there once in a laundry list of places, but I'll still keep the rating at zero.]
India, mentioned once last year, gets no love. Asia is mentioned twice (once as "Asian").
Korea, mentioned seven times in 2011, comes up once (trade agreement).
Europe gets one mention (with Japan Asia), versus two last year.
More to come.