UPDATED at bottom with further comments
The State of the Union speech this year was not suited for heavy lifting in foreign policy, and it had almost nothing to say about policy in the Asia-Pacific. According to the prepared speech, President Obama mentioned a push for the Trans-Pacific Partnership, responded to North Korea's recent nuclear test, and raised cybersecurity concerns that are closely tied to China.
But ultimately, compared with 2011 and 2012, this year has very little of substance on Asia. For the last two years, I have tracked mentions of Northeast Asian countries (and thrown in Iran and Mexico for fun).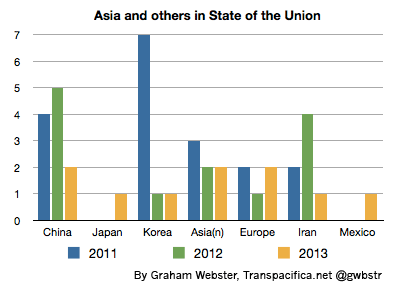 Indicating a domestic economic focus, one of two China mentions, and the only mentions of each Japan and Mexico, come in a passage about "bringing jobs back"
Caterpillar is bringing jobs back from Japan. Ford is bringing jobs back from Mexico. After locating plants in other countries like China, Intel is opening its most advanced plant right here at home. And this year, Apple will start making Macs in America again.
The other mention of China sets the country as a competitor the United States must keep up with on clean energy:
Four years ago, other countries dominated the clean energy market and the jobs that came with it. We've begun to change that. Last year, wind energy added nearly half of all new power capacity in America. So let's generate even more. Solar energy gets cheaper by the year – so let's drive costs down even further. As long as countries like China keep going all-in on clean energy, so must we.
So China is raised only as a signal of "countries like China." Nonetheless, India is never mentioned; Russia only once (in a section on nuclear disarmament).
Perhaps the only meaty foreign policy passage on Asia doesn't mention it. Here's President Obama on cybersecurity—an issue focused significantly on perceived threats from China, as well as Russia and others.
America must also face the rapidly growing threat from cyber-attacks. We know hackers steal people's identities and infiltrate private e-mail. We know foreign countries and companies swipe our corporate secrets. Now our enemies are also seeking the ability to sabotage our power grid, our financial institutions, and our air traffic control systems. We cannot look back years from now and wonder why we did nothing in the face of real threats to our security and our economy.

That's why, earlier today, I signed a new executive order that will strengthen our cyber defenses by increasing information sharing, and developing standards to protect our national security, our jobs, and our privacy. Now, Congress must act as well, by passing legislation to give our government a greater capacity to secure our networks and deter attacks. [a drop in in the real speech: "This is something we should be able to get done on a bipartisan basis." -gw]
By avoiding a direct mention of China, Obama might have avoided an angry pronouncement from the Foreign Ministry here. If he had brought up China on cybersecurity, he would have had to bring up other aspects of the U.S.–China relationship. This would have been great, but there is only so much space in the speech.
Instead, in addition to the announcement that troops are coming out of Afghanistan this year, Obama's foreign policy message is an enunciation of the U.S. role in the world as a "beacon" (see Burma) and as a force for peace (see Syria and the Mideast region).
Above all, America must remain a beacon to all who seek freedom during this period of historic change. I saw the power of hope last year in Rangoon – when Aung San Suu Kyi welcomed an American President into the home where she had been imprisoned for years; when thousands of Burmese lined the streets, waving American flags, including a man who said, "There is justice and law in the United States. I want our country to be like that."
That's all for now. All quotes based on the prepared speech.
UPDATE:
I've read the speech again. Here are a few things I didn't see in the first pass.
Comparison with the past
President Obama's State of the Union speeches have repeatedly mentioned Asian countries in the context of competition in economic and educational terms. In 2011, South Korea came up repeatedly for its educational strengths. China was cited for building "faster trains and newer airports" and for becoming "home to the world's largest private solar research facility, and the world's largest computer."
In 2012, it was "places like China" where labor is getting more expensive, the administration's move to bring more "trade cases against China" (suggesting China as a cheat), and "unfair trading practices in countries like China" to be investigated by a new Trade Enforcement Unit.
This year, China and Asia keep their place amidst the domestic and economic issues in the speech, but the cries of "unfair" have been left behind except as implied in the cybersecurity section. Some have argued that China is to a great extent now a domestic issue in U.S. politics. This rings true with in this year's speech, where "countries like China" are the competitors, the unseen other, against which the United States must compare itself. China is used as looming symbol of prosperity and development, and that the United States might get left behind. It is not a message about U.S.–China relations, nor about reality in China.
Alliances in Asia always get a hat tip
2011: "We have reset our relationship with Russia, strengthened Asian alliances, and built new partnerships with nations like India."
2012: "Our oldest alliances in Europe and Asia are stronger than ever."
2013: "In defense of freedom, we will remain the anchor of strong alliances from the Americas to Africa; from Europe to Asia."
and
"The regime in North Korea must know that they will only achieve security and prosperity by meeting their international obligations.  Provocations of the sort we saw last night will only isolate them further, as we stand by our allies, strengthen our own missile defense, and lead the world in taking firm action in response to these threats."
Missile defense against North Korea: A potential irritant for China
In the North Korea passage directly above, Obama throws in an intention to "strengthen our own missile defense." As it happens, strengthening defenses against North Korea also puts more resources in China's neighborhood. Some commentators in China cry foul and claim North Korea is only an excuse, and the United States is trying to upset the nuclear balance. Some U.S. analysts guess that missile defense will trouble bilateral ties with China.
In my discussions with Chinese experts, however, it seems clear that the resources directed at North Korea are seen as insufficient to nullify China's nuclear deterrent. So while some might flag this issue as a China policy point, I view it as directed at North Korea alone.
Missed opportunity: China–U.S. cooperation on North Korea
Obama had the chance to call out U.S.–China cooperation on North Korea. It's a sensitive area, and some in China are nervous that a collapse of the DPRK would lead to U.S. troops on the Yalu River, but in reality, the United States and China have been well aligned on this incident. Both countries deeply desire a nuclear-free Korean Peninsula. Both have overriding interests in stability and predictability. And it's possible to talk about the two reaching common cause in confronting the DPRK.
At a time when so many regional issues pit the United States or its allies against the Chinese government, why not drop in "China" when talking about confronting an issue of common concern? And while we're at it, no love for the United Nations?