Beijing University (aka Peking University) and Qinghua University (Tsinghua) top Science magazine's list of top undergraduate schools for students obtaining U.S. Ph.D.s.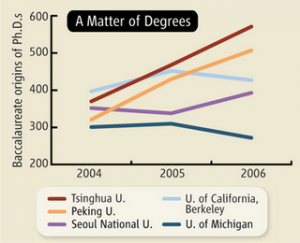 A new study has found that the most likely undergraduate alma mater for those who earned a Ph.D. in 2006 from a U.S. university was … Tsinghua University. Peking University, its neighbor in the Chinese capital, ranks second. Between 2004 and 2006, those two schools overtook the University of California, Berkeley, as the most fertile training ground for U.S. Ph.D.s (see graph). South Korea's Seoul National University occupies fourth place behind Berkeley, followed by Cornell University and the University of Michigan, Ann Arbor.
Via China's Scientific & Academic Integrity Watch. The text of the article, without a pay wall, is at MITBBS.