At Mobinode, Piet Walraven has published the results of some research into Chinese internet companies forming partnerships with overseas entities, and there's a map.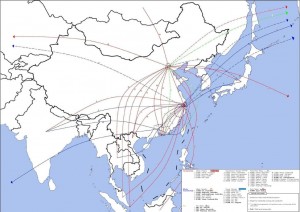 Walraven describes the map:
It is a summary of all overseas operations organized in two categories: 'partnerships, licensing, and co-production' and 'self operated or wholly owned overseas initiatives'. Through these two distinctions we can see that the dashed lines that each represent an action in the 'self operated foreign initiatives' category, have a relatively low representation which indicates that not many Chinese Internet companies are enrolled in true wholly-owned international operations yet.
The results represent a first round of work, and give an interesting view of a geography of business collaboration.