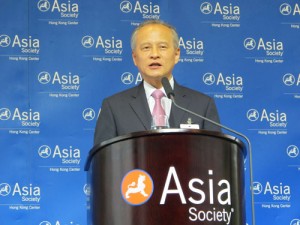 As always, there has been movement in the South China Sea
The Philippines may ask for U.S. spy plane assistance in areas disputed with China, Philippine President Benigno Aquino said, reportedly referring to P3C Orion aircraft. (July 2)
The People's Daily that day also accused the Philippines of attempting to stir up trouble in the region ahead of the ASEAN Foreign Ministers' Meeting July 9. (English of full article.)
The Philippine military has "no problem" with Chinese patrols near disputed islands, according to a media report, as long as they stay in the "freedom of navigation area"—i.e. international waters where any ship has a right to be. (July 3)
The Philippines issued a new "note verbale," a type of diplomatic communication, objecting to China's plans with its newly upgraded administrative distinction for the administration of some of the islands it claims in the South China Sea, a Philippine news site reports. "Sansha city" officially includes both an island disputed with Vietnam and the Scarborough Shoal, which China and the Philippines disagree over. (July 4)
Chinese Maritime Surveillance ships are patrolling within 1 nautical mile of the Nansha islands, Xinhua reported.
The Chinese government announced it would open a research station in the "Zhongsha" islands, part of the controversial Sansha City. A quick check suggests these "islands" are not even above water all of the time, and they have not been part of the recent dust-ups with Vietnam or Philippines. (July 5)
An Economist story comes with a nice map that includes oil claims.