Anyone living in China and communicating with the Western Hemisphere or Europe knows that even when government controls aren't slowing down the internet, any disruption of undersea fiber optics in the Pacific can bring traffic to a crawl.
From MIT's Technology Review, via Japan Probe and Foreign Policy, comes a map of global fiber projects slated and in progress. This is a screenshot of the Pacific, taken from TR's global interactive map.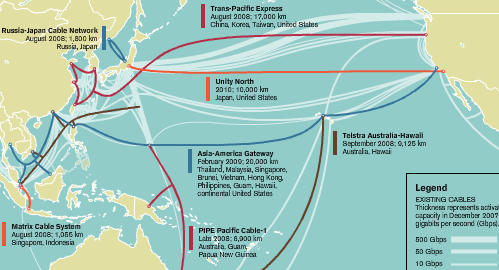 According to the article accompanying the map, global international transmissions are about 11.0 terabits per second. As I wrote at Sinobyte, one cable is supported by Google, Japan's KDDI, and others. Another, the Trans-Pacific Express, recently won approval early this year from the U.S. Federal Communications Commission.