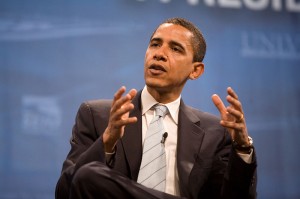 Without saying definitively he would not attend the Olympic opening ceremony in Beijing one month from today, U.S. Senator Barack Obama said as president he would skip the ceremony without hearing from the Dalai Lama that there had been progress on the Tibet issue.
"In the absence of some sense of progress, in the absence of some sense from the Dalai Lama that there was progress, I would not have gone," Obama said at a news conference, according to the Associated Press.
From a Chinese perspective, the statement that Obama would take cues from the Dalai Lama is quite bold and constitutes a public articulation of which side the candidate has chosen in the Dalai Lama–P.R.C. disputes. While few would be surprised to hear a Democratic candidate support human rights in Tibet, it's diplomatically significant if enunciated.
The AP article notes that Obama had encouraged President George W. Bush to skip the ceremony, as had Senator John McCain in April.
McCain, Obama's Republican opponent, also issued a hypothetical ultimatum, similarly saying that he would only attend the ceremony if he saw improvements on human rights issues. McCain's April statement was in some ways stronger than Obama's most recent one, though he did not allude to taking cues from the exiled Tibetan leader.
"If Chinese policies and practices do not change, I would not attend the opening ceremonies," said the Arizona senator, who has clinched the GOP nomination for president. "It does no service to the Chinese government, and certainly no service to the people of China, for the United States and other democracies to pretend that the suppression of rights in China does not concern us. It does, will and must concern us."
These statements, which apparently promise to show symbolic support in exchange for concessions on human rights issues, recall the early Bill Clinton administration principle of conditional engagement: The United States would work with China on trade in exchange for rights improvements. What the candidates haven't mentioned is that when Clinton tried this tactic, it either failed or was abandoned in favor of, say, less-conditional engagement.
Could the candidates be reacting to George W. Bush's friendly behavior toward China in the way that Clinton reacted to George H. W. Bush's? The current president, for one, comes near toeing the Chinese line in his most recent statement, promising to attend the ceremony. Skipping the event would be "an affront to the Chinese people," he said.